Excerpt from the K of C (Supreme) website:
http://www.kofc.org/un/en/news/releases/detail/3board.html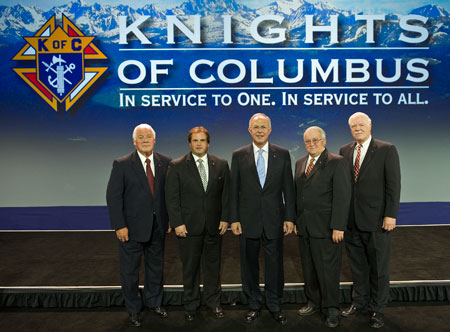 In the Wednesday morning Business Session, three new members were added to the Order's Board of Directors with the title of supreme director.
Newly elected were Past State Deputies Arthur J. Harris of New York, Brian W. Simer of Idaho and Meclea L. Casavant of Alberta, Canada, who also is a former supreme warden.
Casavant, who is 69 years old, served as supreme warden from 2008 to 2010. He and his wife, Astrid, live in St. Albert in Alberta and are parishioners of Holy Family parish there.
He joined the Order in 1974 and belongs to Brother Anthony Council 10014 and Archbishop Emil Legal Assembly, both in St. Albert.
Over his employment career, Casavant was a social worker for Catholic Charities of Eastern Nova Scotia, a youth counselor with the Dept. of Health and Social Services, and most recently a consultant with an addiction treatment center.