Our General Meeting and Silver Rose/Our Lady of Guadalupe Icon will be joining us at 6:00 PM. on June 19th; everyone is welcome to join us for this celebration.
For more information on the Silver Rose Program please click here.
The Alberta/Northwest Territories State Council has provided a guide to the celebration; to view it, click here or on the image on the right.
Our Council's submissions to State for 2012 Service Awards are now posted in the "members only" section of the website.
If you have logged in to this site, CLICK HERE to proceed to that page now.
Excerpt from the K of C (Supreme) website:
http://www.kofc.org/un/en/news/releases/detail/3board.html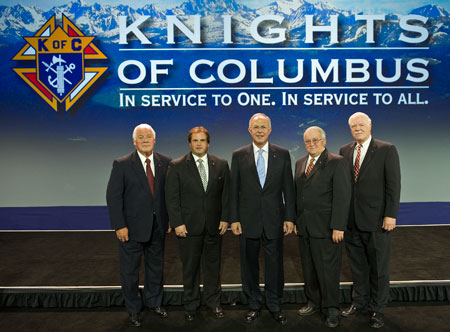 In the Wednesday morning Business Session, three new members were added to the Order's Board of Directors with the title of supreme director.
Newly elected were Past State Deputies Arthur J. Harris of New York, Brian W. Simer of Idaho and Meclea L. Casavant of Alberta, Canada, who also is a former supreme warden.
Casavant, who is 69 years old, served as supreme warden from 2008 to 2010. He and his wife, Astrid, live in St. Albert in Alberta and are parishioners of Holy Family parish there.
He joined the Order in 1974 and belongs to Brother Anthony Council 10014 and Archbishop Emil Legal Assembly, both in St. Albert.
Over his employment career, Casavant was a social worker for Catholic Charities of Eastern Nova Scotia, a youth counselor with the Dept. of Health and Social Services, and most recently a consultant with an addiction treatment center.
Excerpt from the Western Catholic Reporter:
http://wcr.ab.ca/WCRThisWeek/Stories/tabid/61/entryid/903/Default.aspx
New state deputy transformed by faith
WCR PHOTO | RAMON GONZALEZ
Gary Johnson will become
state deputy of the Alberta
Knights of Columbus on July 1.
May 9, 2011
RAMON GONZALEZ
WESTERN CATHOLIC REPORTER
Gary Johnson of St. Albert is the new leader of the 17,000 Knights of Columbus in Alberta and the Northwest Territories.
Johnson, 64, was elected state deputy at the Knights' convention in Calgary April 29 to May 1. He was state secretary prior to the election.
About 500 people, including voting delegates and guests, attended the convention and banquet at the Coast Plaza Hotel and Conference Centre.
Johnson, who ran unopposed for the top post, replaces Neil Gannon of Edmonton.
"I'm very humbled," he said. "The fact that no one ran against me made me feel very good."
Elected to the state board along with Johnson were Bill Smith as state secretary, Charles Russell as state treasurer, Ron Schuster as state advocate and Vince Reyes as state warden.
Born in Prince Albert, Sask., Johnson's family moved to Edmonton in 1953 and he has lived in the Edmonton area for the past 58 years, with the exception of 1989-91, when he lived in Oshawa, Ont.
In 1972, he met Evelyn Blais, a French Canadian who was also born in Saskatchewan. They married and raised three children, Michelle, Ann-Marit and Kristoffer. Now Johnson has three grandsons.
Unfortunately, after a courageous six-year battle with cancer, Evelyn died in November 2007, just a month before what would have been the couple's 35th anniversary.